Top Five Star ANCAP Safety Ratings for BYD DOLPHIN & BYD SEAL
26 October 2023
Newly launched BYD DOLPHIN, the agile and versatile C-segment hatchback and the BYD SEAL, the medium-sized high-performance EV Coupe, both with high levels of safety equipment as standard, have just received the top 5-star safety ratings in the latest round of the ANCAP Safety testing standards. (Australasian New Car Assessment Program).
The BYD DOLPHIN scored 89% for Adult Occupant Protection, 86% Child Occupant Protection, 85% Pedestrian/Vulnerable Road User Protection and 77% Safety Assist.
For its size, overall, the BYD DOLPHIN demonstrated a mix of Good and Adequate protection for adult occupants in crash tests, with a Marginal level of protection offered to the driver's chest in the frontal offset test. Maximum points were scored for the BYD DOLPHIN's protection to child occupants in both frontal and side impact tests.
The BYD SEAL scored 89% for Adult Occupant Protection, 87% Child Occupant Protection, 82% Pedestrian/Vulnerable Road User Protection and 75% Safety Assist.
In ANCAP's destructive crash tests, the BYD SEAL achieved full points for protection of the driver and child passengers in the side impact test, and the driver in the oblique pole test. Protection offered to the chest and lower legs of the driver in the frontal offset (MPDB) test, and rear passenger chest in the full width test, was assessed as Adequate.
Both vehicles are fitted with a centre airbag to minimise injury from head contact between front seat occupants or contact with the intruding side of the vehicle in side impact crashes, and effective protection was demonstrated by both vehicle models.
In addition to the routine suite of active collision avoidance performance tests, under the new 2023 test criteria, both BYD models were tested for their ability to detect a cyclist passing the vehicle from the rear and warn and/or prevent occupants of the vehicle opening their door into the cyclist's path. The BYD DOLPHIN and BYD SEAL are both fitted with an anti-dooring system that provides an audible warning, however neither model has a system for occupant retention (temporary door locking).
Another new aspect included in ANCAP testing from 2023 includes an assessment of vehicle access when submerged in water. Both the BYD SEAL and BYD DOLPHIN meet the requirements for 'door opening' functionality – demonstrating that, if the car entered water, the doors would remain functional for the minimum required time period (two minutes) after vehicle power is lost. 'Window opening' functionality however was not demonstrated.
"Our 2023 test and rating criteria have introduced further requirements for high levels of structural protection as well as new challenges for manufacturers in the area of active safety systems and, pleasingly, these models have both achieved five-star ratings," said ANCAP Chief Executive Officer, Carla Hoorweg.
Check out the impressive Double-Sided Crash Test on the BYD Seal here.
For more information, click through to the ANCAP website.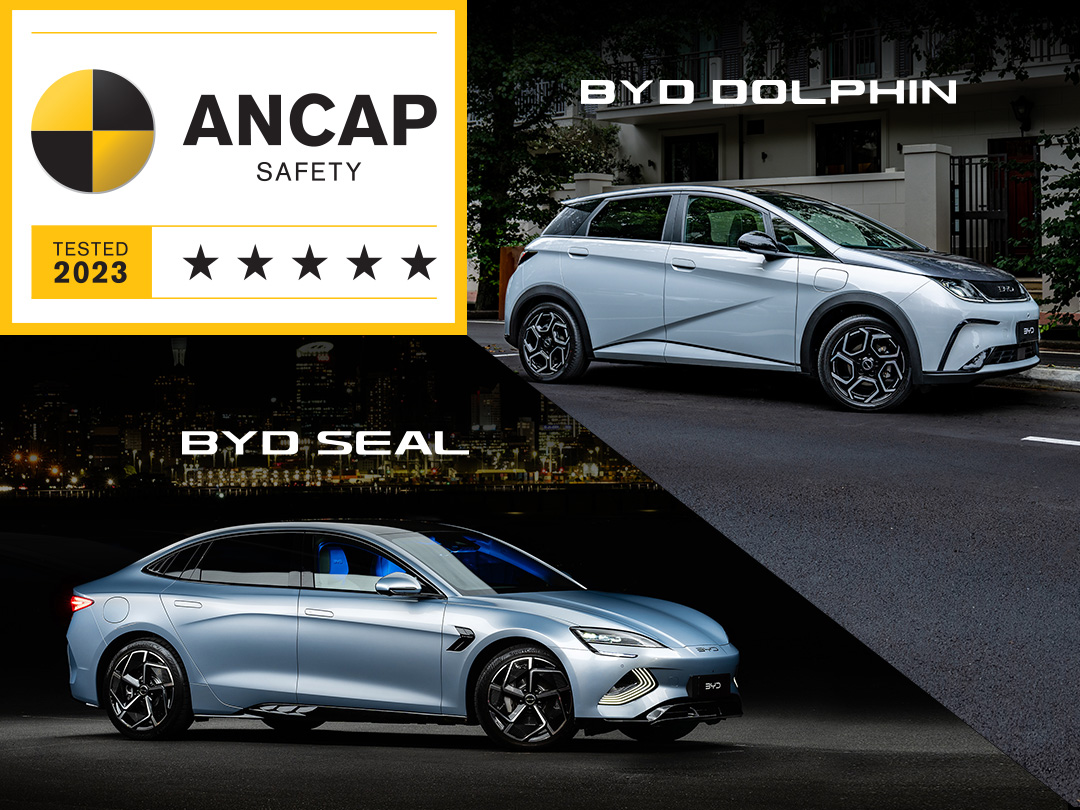 RETURN TO NEWS