Further Dealer Network Expansion
03 August 2023
It's almost 12 months to the day since the first BYD ATTO 3 customer deliveries, BYD Auto NZ has gone from strength to strength with over 3,500 vehicles sold, a 19% EV market share in NZ, putting BYD in the top two for EV sales in New Zealand. Unsurprisingly the BYD ATTO 3 became the most awarded EV in NZ for 2022, taking home seven COTY awards. Due to the staggering growth of the brand over the past year, the BYD dealer network is expanding yet again announcing three new showrooms to open on the 1st of September 2023.
Warren Willmot, BYD New Zealand Brand Manager says "The further expansion of the BYD dealer network shows the confidence and reputation of the BYD brand, and its remarkable growth since August 2022. BYD New Zealand only partners with carefully selected dealers, who prioritise customer experience. To have such comprehensive coverage, showcases our commitment to bringing a BYD to all NZ vehicle segments and to all New Zealanders."
Aptly named, Energy Motors, a subsidiary of The Colonial Motor Company Ltd, will be home to BYD in Taranaki. BYD will set up shop in an impressive facility at 24 Eliot Street in New Plymouth with Sales, Service and Parts operations.
The Car Company will represent BYD in the upper South Island based at 150 Rutherford Street, Nelson with plans for a spectacular new showroom within the year. With many BYD customers already in Nelson this is a welcome addition to the South Island and to the BYD dealer network
Shane Drummond, Managing Director of the Car Company says, "with 27 years of successful business in the Top of the South, we are super excited to help grow, promote and deliver this awesome brand locally".
Bayswater BYD are set to open a new showroom in Napier, joining their current sister site in Hastings. Offering comprehensive sales and service coverage throughout the Hawkes Bay region
The team at Automarque BYD have just completed their fantastic new BYD showroom at 25 Rutherford Street, Lower Hutt and look forward to continuing to welcome customers onto the new premises. "Our new BYD showroom is an exciting addition to our Rutherford Street Lower Hutt dealership. With sales and servicing onsite, we're expecting a promising future with BYD by taking care of our loyal customers as New Zealand makes the transition to new energy vehicles" says Chris Douglas, General Manager of the Automarque group
BYD Auto NZ is currently taking expressions of interest for Parts and Service providers in Rotorua, Taupo, Blenheim & Timaru, further showcasing the dedication and commitment to BYD customers based all over New Zealand.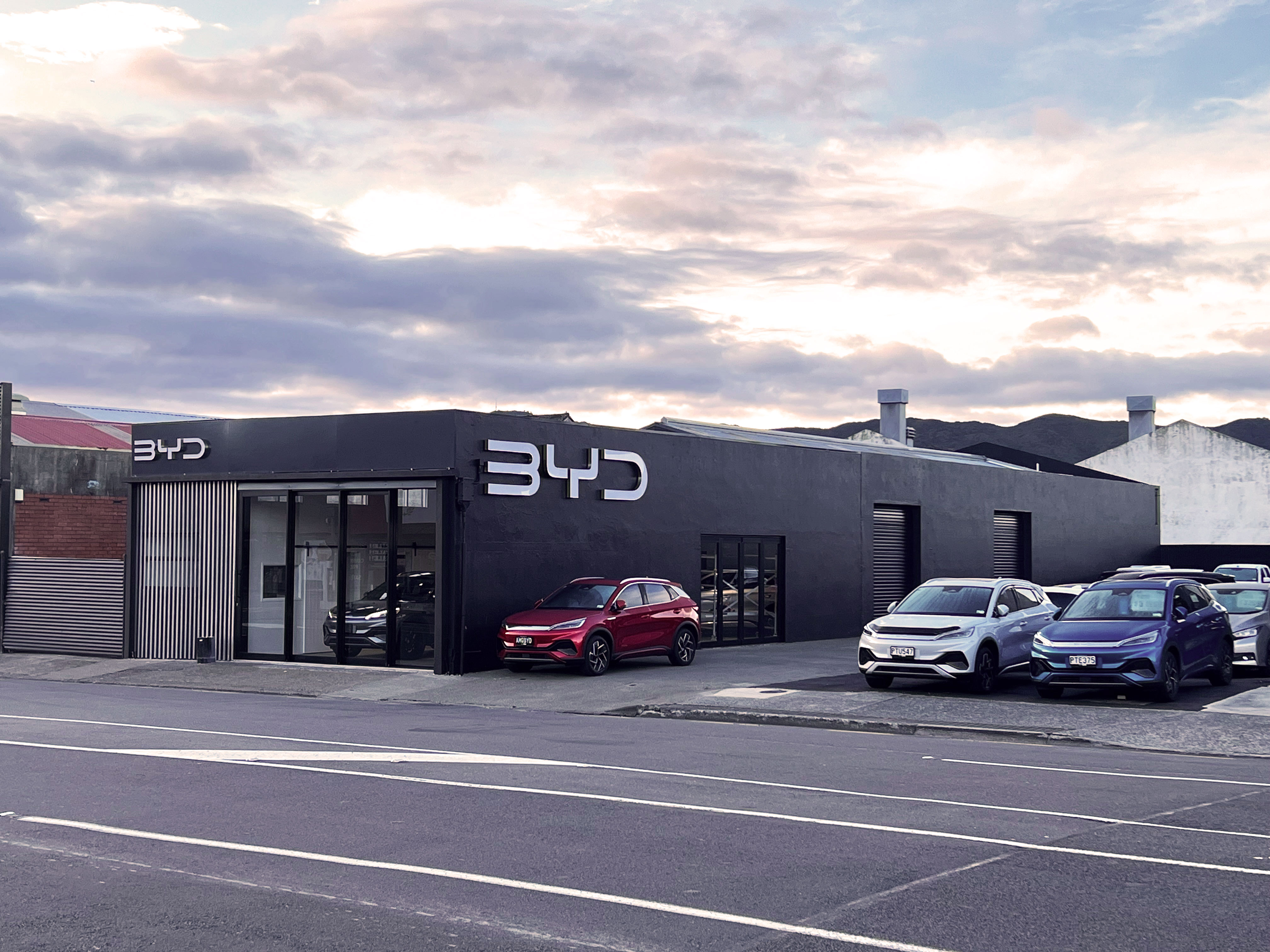 RETURN TO NEWS